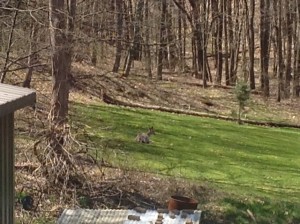 I was sitting in my office late this morning wondering what I was going to write about for my Musings from my Office Window. Have I said that I love living in the country? Let me give you a little background about my husband and me.
I grew up in an inner city suburb of Pittsburgh, so for all intents and purposes, I was a city girl. My husband grew up in a more rural suburb of Pittsburgh, where his parents owned an acre of ground, but there was a plethora of woods and country all around. He grew up and went to college for Forestry, to become a Forest Ranger. I grew up liking the country, but afraid of country living.
We grew up in the same church, but he was closer to my older sister's age. When he came home from college, we started dating, fell in love, and the rest, as they say is history. 🙂
From the very beginning of our marriage, my hubby made it perfectly clear that he wanted to live in the country. For the first four years of our marriage we rented a place in the same town I grew up in. Then we bought a house in the town that he grew up in, lived there for 18 years and raised our two children there.
Long story short, we found a house in the country on 10 acres, and moved here 15 years ago. He wanted to make the move to the country right from the get-go, but I was afraid. Afraid to live that far out, afraid of the wild animals, afraid of the dark…maybe!
Well, 15 years later, I love it here and can't imagine living anywhere else. Which brings me to the above picture…
My office is in the back of my house, which faces the woods. As I sat at my desk this morning, I looked out the window and saw a deer wandering around the old pasture, what I call the back 40. She disappeared into the woods only to reappear and just up and lay down.  I have never seen this before. Yes, we have a slew of deer that wander through the property, all day long, but I have never seen one just feel safe enough to lay down right out in the open, in the middle of the day. That's the thing about living in the country, especially for a "city" girl, there is always something new to see and learn.
Always keep learning!