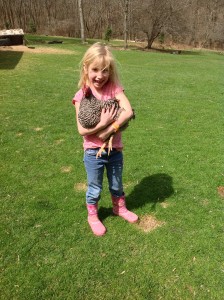 This week my granddaughter Eilidh is on Easter break from school, so she and her two younger siblings are staying with my husband and me, since our daughter and son-in-law are working all week.
The grandkids love to come to our house because they get to live like country kids. They get to  hike, ride bikes, catch lightning bugs, go for walks in the woods, swim when it's warm enough, run barefoot, go stream walking and do what they like best of all to do, which is help take care of the animals.
There are eight chickens, five Pilgrim geese, and a myriad of cats to feed, eggs to gather, bird feeders to fill and a bucket to fill with shelled corn for the deer and wild turkeys.
As you can see by the picture, in Spring, Wellies are a must, and we all have a pair! 😉