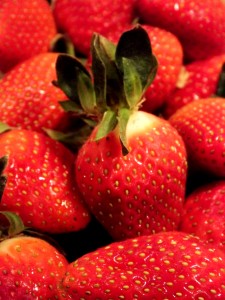 You can make this delicious fruit sorbet with any of your favorite fruits. Sliced strawberries, peaches, kiwi, bananas and mangos all work well, but, really, you can use just about any fruit of your choice.
Ingredients:
4 cups fresh fruit
1/2 cup fresh orange juice
1 pinch  salt
sugar to taste
Instructions:
Spread sliced fruit in one layer on a baking sheet. Freeze, uncovered, until frozen solid. Once the fruit is frozen, let thaw at room temperature for 15 minutes. Place in a blender with the orange juice and process until smooth. Add a small pinch of salt and a little sugar to taste. Actually, if you fruit is very sweet, you can skip the sugar all together!