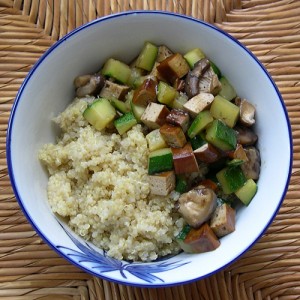 Isn't it amazing that there are hundreds upon hundreds of over-the-counter medications for every possible ailment, ache, pain, and mood – and yet many people still do not look to food as their source of power?
Mother Nature knew exactly what she was doing when she provided us with all that we need for a healthy, well-balanced diet and the tools that we need to get through our day, our week, and our lifetime.
While every food has its benefits, here are the five most worth mentioning:
1. Chicken – The white meat found in chicken contains the essential vitamins B12, B6, and B3. Chicken can assist in lowering your risk of stroke and also boost your mood. Chicken is low in fat (especially with the skin removed) and high in protein. Besides all the nutritional benefits, chicken is so versatile; it can be cooked in so many ways using a variety of tools such as the outdoor grill or an indoor rotisserie. And the B vitamins provide a host of benefits such as:
* Fighting off anemia
* Maintaining healthy blood cells
* Warding off heart disease
* Increasing energy
* Boosting the immune system
* Converting carbohydrates into energy
2. Broccoli and Salads – Broccoli and salads, especially salads made with leaf spinach, have many benefits. Broccoli contains vitamins A, C, and E while spinach provides folate, which helps to maintain and produce newer healthier cells for the body. Vitamins such as A, C, and E help to boost the immune system; this could mean less time off sick and shorter duration of ailments such as the common cold.
3. Bananas – For a sweet treat any time during the day, reach for a banana. The benefits of a banana are numerous. You can choose to eat a banana as it is, or you can add it to a yogurt or a bowl of multi-grain cereal. Either way, you will gain the benefit of a quick energy boost that sustains you for several hours along with the mood-altering benefit of the B6 vitamin that bananas are rich in. In addition, they taste good too!
4. Dark Chocolate – The good news is that good quality, dark chocolate has many benefits to help make you feel great. The cocoa in chocolate has heart-healthy benefits such as lowering your cholesterol and reducing heart disease. That is not all; dark chocolate can lift your mood significantly with its tryptophan and magnesium. Grabbing a piece of high quality dark chocolate will not only help your heart, it will also help your mind.
5. Whole Grains – Many people are aware of the most common grains but may not be as privy to the ones that are a little more unusual. If you are aware of the power that these grains pack, you would be sure to include them into your daily diet.
Quinoa is a grain that resembles a combination of grain and rice. The history of quinoa dates all the way back to the Inca civilization. The Incas considered it to be a sacred grain and for a very good reason. Quinoa is packed with protein. It is also full of fiber. Quinoa is a perfect way to start your morning, and the fiber will help you feel full for the day.
You can add things such as chicken broth and eat it for lunch, or add some honey and maple syrup with cinnamon for a tasty and nutrition-packed breakfast.
Just like the Incas and their quinoa, the ancient Aztecs knew that chia was a powerful substance and main staple for their diet. Chia is super packed with Omega 3s, loaded with protein, and one of the lowest carbohydrate grains. For this reason, many athletes are turning to chia as part of their daily winning game. Being high in antioxidants increases the value of chia in your diet as well.
The ancient Aztecs also knew that this grain was valuable to them. They not only included it into their everyday diets but also offered it as part of various rituals and ceremonies. Plant proteins, amino acids, lysine, calcium, and iron as well as a high fiber content make this particular grain the one that has it all.
I know, that was more like eight foods if you count the three different grains I told you about, but I felt it was important to tell you about other gluten-free options besides, brown rice.