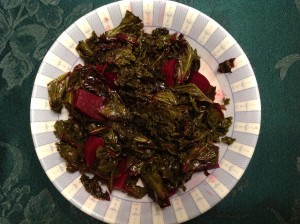 Keeping with the kale theme…today I have a yummy new way for you to get your kale and beet root vegetables.  I made this over the weekend and I love, love, love this recipe.  Now the thing that surprised me is that my husband, who loves kale and beets, did not love this.  So I will let you, my readers, decide if this is a keeper or not for your family!
This is a fairly fast recipe to make if you already have the beets roasted.
Kale and Beet Root Toss Together

Ingredients:
8 fresh beets
1 large bunch of Kale
4 tablespoons Apple Cider Vinegar
1/3 cup gluten-free chicken broth

*
First of all start with fresh beets.
Cut off the stems (and set aside), and tap root, leaving about 1 inch of both on the beetroot itself so it doesn't bleed out during roasting.
Then, to roast the beets get a cookie sheet or a jelly roll pan and lay a sheet of aluminum foil on it.
Cover aluminum foil with parchment paper so that you don't get any of the aluminum from the foil leeching into your beets.

 (More about aluminum, and why you need to get it out of your life, in a future blog.)

Wash your beet roots and pat dry.
Lay them on the parchment paper and drizzle with extra virgin olive oil and season with sea salt and black pepper.
Wrap parchment around beets and then wrap the foil around and seal it.
Place sheet pan into a 350 degree oven and roast for one (1) hour.
After one hour, remove from oven and place on a cooling rack for 20 minutes.
After 20 minutes carefully open foil packet, pick up beets 1 at a time with a dry paper towel and rub the skin off of the beets, skin should come off easily, then discard skin.  Set beet roots aside.
Now for the kale…
Rinse kale leaves under cool running water to get rid of residual dirt.
Remove the leaves from the woody stems, discard stems, set leaves aside.
In a skillet, over medium low heat, place two (2) tablespoons of Organic Virgin Coconut Oil.  Let melt.
Meanwhile, cut or tear kale leaves into small pieces.
After the coconut oil is melted, put kale leaves into skillet and gently toss until all the leaves are covered with coconut oil.
Cover and saute until wilted, about 10 minutes.
Add the chicken stock and 2 tablespoons of the apple cider vinegar.
Stir to combine, cover and cook for about 10 minutes.
Cut the beets into small chunks and add to kale.
Stir in the remaining 2 tablespoons of vinegar, season with sea salt and black pepper to taste.
Serve immediately.
* If you are eating a gluten-free diet, please be aware that a lot of store bought stocks have wheat flour in them.  Always check labels.