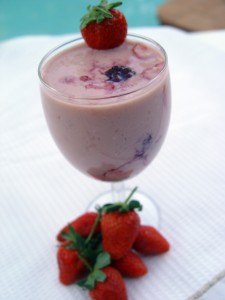 I love smoothies. In fact I have one everyday for lunch. Today, I have a breakfast smoothie for you. Smoothies are healthy, delicious and nutritious…at least mine are. 🙂  I hope you enjoy this one.
Blue Razzle Acai Berry Smoothie

1 cup blueberries
1/2 cup raspberries
1/2 cup plain Greek yogurt
1/2 cup unsweetened Almond milk
1/4 cup acai berry juice
1 tsp ground flax seed or chia seeds
1 cup ice cubes
Put all smoothie ingredients in blender, then with blender on high speed, start adding ice cubes until desired consistency. Serve immediately in tall, chilled glasses. This is a nutritious and delicious breakfast, lunch, or pick-me-up drink.