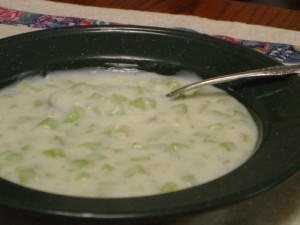 In case you were wondering why I've been talking a lot about crockpots lately, it's because I've been even busier than usual and my crockpot is a wonderful way to have food "cook itself."
If you're not used to using one, knowing some tips and tricks ahead of time can help reduce the learning curve. Even if you do use your crockpot frequently, it's nice to expand your recipe repertoire and learn something new about this stand-by of busy kitchens.
Here are some tips and tricks for successful crockpot cooking.
1. Don't Peek!
When you're using your crockpot, leave the lid on unless the recipe directs you not to. If you take the lid off during cooking, it can take up to 25 minutes for the food to resume its proper cooking temperature, and that extends your cooking time.
2. Warming "Plate"
You can use your crockpot to keep foods warm even if you didn't make them in there. Anything from soups to meatballs, can be kept warm in a crockpot on Low with the lid off or Warm with the lid on can keep foods hot while you transport them or serve them from your buffet or table.
3. Hot Weather Friend
Did you ever think about how little heat a crockpot generates in the kitchen? This makes it ideal for cooking during hot weather. You can even do baking in your crockpot, helping to keep your kitchen cool. (Crockpots use less energy than an oven, too.)
4. High, Low, and Making Adjustments
A good rule of thumb to remember is that 1 hour on High is roughly equivalent to 2 to 2 1/2 hours on Low. Knowing this allows you to adjust the timing of your dish, whether to speed it up or slow it down.
5. Blanch Veggies
Blanched vegetables do not lose as many nutrients as veggies that are placed in the cooker raw. (Blanching means dipping the vegetables in boiling water for a minute or two, then in cold water to shock them or stop the cooking process.)
6. A Special Warning about Raw or Dried Kidney and Fava Beans
If you are going to use these beans in your slow cooker, choose canned whenever you are able. Dry or raw kidney and fava beans contain a toxin that only goes away if the beans are boiled for 10 minutes. The low temperature of a slow cooker doesn't work to get rid of this toxin. So either use canned beans or pre-boil them.
7. What Size?
Generally speaking, a family of four can do well with a slow cooker that's about 5 to 6 quarts. However, having more than one slow cooker size can come in very handy. You can have a hot drink going in the small one while you make chicken stock in the large one; or bake bread in the large one while heating soup in the other (for example).
8. Fast-Cooking Foods
If you are going to be gone a while and still want to cook thin cuts of chicken or fish fillets in your slow cooker, you can place them in the cooker while they are frozen. This increases the cooking time and decreases the chances of overcooking.
I'm sure you can come up with even more tricks. Let me know in the comments.