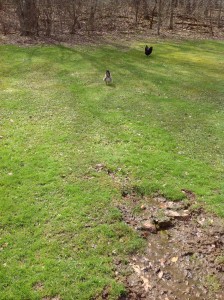 I can't believe that Easter is just under 3 weeks away. We will soon be into, what I call in my neck of the woods, Mud Season! I say soon because here in Western Pennsylvania, we still have snow on the ground. This is like the winter that just won't end, but back to mud season.
What is mud season, you might ask? Mud season is
that magical time of year between the snow that has covered the ground, and the grass that will eventually grow thick and green. When I walk outside in my yard and sink two inches in mud.
Being the owner of a very active six year old Labrador Retriever, mud season is one of my least favorite times of year. I wish we could go from the frozen, snow covered ground to the soft, grassy covered, flower dotted, greenness that is Spring. I can only hope that mud season will be brief.