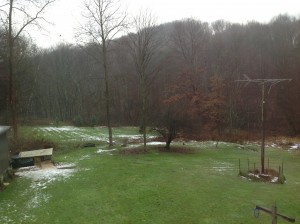 As I write this this morning, the house is quiet.  My husband has left for work and I am here with Charlie and the outside animals.  It's early and normally I would see deer grazing in the old pasture, but since it is day one of "deer season" they are all in hiding, from the hunters that have swarmed the nearby woods for the next two weeks, or so I thought.  When I took this picture to put into this post, I noticed something.  If you look closely,  to the left of the apple tree, standing on the plywood "bridge", is a
doe.
She is safe, for one more week, because it is only Buck season this week.  I hate these two weeks of the year.  I realize that it is necessary to thin the herds, especially here in Pennsylvania, and I do love a good deer steak, but, I feel like they are part of my family as they wander through our property throughout the year.
In the spring, the new moms bring their babies by, and I watch them grow. They are so cute, and oh so silly as they jump and play with the other babies.  Throughout the summer, they come by every morning and every evening to graze and sometimes steal food from the goose pen.  Seems they really like layer pellets.  Who knew?
And in the fall, when the apples are ripe on the trees, they turn into apple thieves as well.
It's hard to believe that Thanksgiving is past and Christmas is just three short weeks away.
I'll be back tomorrow with more health information, but today was just about my thoughts.