Are you one of those people that say that they don't like asparagus?  I was just like you for very many years.
After my husband and I were married, we would go to my in-laws for Thanksgiving.  My Mother-in-law would always make canned asparagus spears for dinner.  Mainly because my husband and his brother-in-law loved them.  Let me tell you, there is nothing worse than canned, boiled asparagus, and when I was pregnant, just the smell of it was enough to make me sprint to the bathroom. So I proclaimed that I didn't like asparagus and I maintained that theory for about 20 years.
All that changed when I tasted fresh, locally grown asparagus and roasted it in the oven.  I am now a huge fan of asparagus and I have a recipe for you that I think you will love and may even be a holiday tradition from now on in your family. So today I have a recipe for you to hopefully change your mind, and make you a lover of asparagus.
But first here are a couple of facts about asparagus:
Asparagus is one of the top food sources of glutathione, an antioxidant that helps support the liver, the body's main detox center.  Plus the high levels of fiber in asparagus are like an intestinal broom, that sweeps toxins out of the body.
Tender, but not overcooked asparagus is often a fine art. In this recipe, we steam the asparagus lightly before sautéing it with red wine vinegar. The final touch is chopped pine nuts sprinkled on top. Just a little goes a long way.
Warm Asparagus Spears with Pine Nuts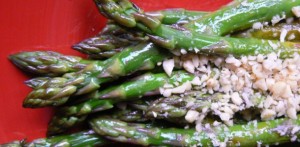 Ingredients:
1 bunch of asparagus
1 tablespoon olive oil
1/2 tablespoon red wine vinegar
Sea Salt and pepper
Chopped pine nuts
How to Make It:
Cut the ends of the asparagus stems off and steam the spears for about 3 minutes.
Once the asparagus has steamed, in a skillet, over medium heat, heat the olive oil. Add the red wine vinegar and asparagus and sauté for about 2 minutes. When the asparagus starts to brown slightly it's ready. Season it with sea salt and pepper to taste, and top with chopped pine nuts.