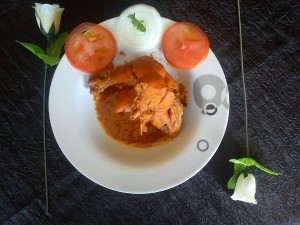 I love chicken. It is such a versatile meat. You can bake it, fry it, grill it, but one of the most popular and easy ways of serving it is good old roast chicken.
I have several different recipes for roast chicken, but here is one of my families favorite recipes. I hope you enjoy it also.
Roast Chicken
Ingredients:
* 2 lbs. chicken cut into big pieces
* Salt and pepper
* 1 tsp. Chili powder
* 1 tbsp. olive oil
* 2 tbsp. tomato paste
* 1 tbsp. lemon juice
* 1 tsp. garlic minced
* 1/2 tsp. crushed ginger
Instructions:
* Wash the chicken thoroughly.
* Add all the ingredients and mix well.
* Leave in the fridge overnight.
* When you are ready to cook, add some oil in a pot, heat it really well.
* Add the chicken with its marinade and all the left over sauce as well.
* Cook until the chicken is well done.
* Serve with a big leafy green salad and quinoa or brown rice.